Why We Chose HubSpot | Inbound Marketing
Whether selecting a Customer Relationship Management solution (CRM) for the first time or making the decision to upgrade or replace your existing CRM system. Either way, it can be a potential upheaval or disruption to your business. But what are the costs of not doing it?
Do you want to cut out wasted time and effort? Align your business functions with one another? Get a better result on your investment? Then it might be better in the long run to select a CRM and automation tool that can grow with your business, not hold it back.
But where to start?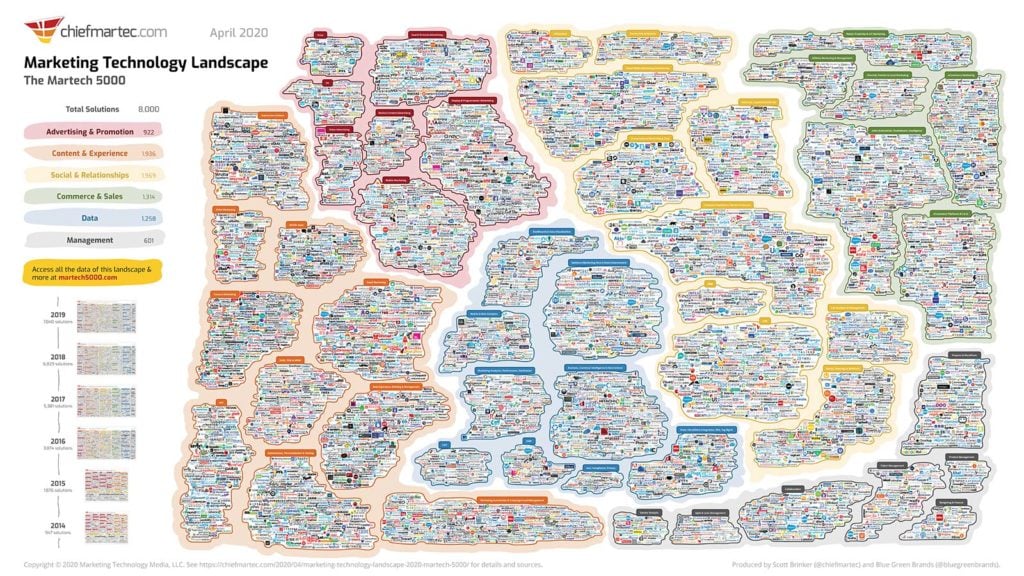 Source: ChiefMartech.com
According to ChiefMartech.com there are over 8,000 different solutions and counting! With so many solutions all vying for your business, where do you start?
Before becoming an agency the Secret Source Team worked client-side for over 20 years! Procuring, implementing, using and maintaining databases and CRM's across global businesses. Back in the day, it was necessary to use supplementary systems that were not always that complementary with one another. Having undergone CRM transformation projects ourselves as sales and marketing business leaders, we understand all too well the impact of implementing a sales and marketing tech stack for the future. This, on top of inheriting lots of different software and processes through acquisitions, all added up to a rather wobbly tech stack that often needed a complete overhaul.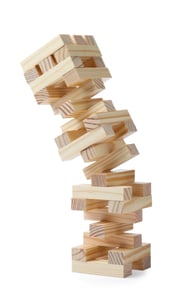 Pre Secret Source days, our specialists naturally picked up a few battle scars between us. Some tech stack pains we experienced included;
No single sign-in, endless switching between different systems, logging in and logging out - passwords!
Not truly knowing the quality of data and having to transfer data from one system to another. Double entry, inaccurate data, and even business cards left in a drawer!
No one 'pane of glass' with which to view everything; the level of engagement or deal flows/velocity
Poor and lack of open dialogue with sales, service or finance
Thankfully, systems, processes and departmental culture have improved these days and the above are things of the past and much of the functionality back then now considered as hygiene factors in any CRM automation tool. However, many companies still hold onto legacy systems or point solutions, not using a fully aligned solution that integrates digital assets; website, socials and email channels.
Our background and experiences have held us in good stead. We understand the importance of pre-sales, sales, marketing, account management, service, operations, finance and senior management, all working toward one common goal.
With models and processes such as RevOps and Omnichannel successfully being adopted and rolled out, then simply making do with your existing CRM might not be the answer. The challenge of increased data management will compound the issue further as your business develops and grows. Making the most of your data is often the difference between a growing business compared to a stagnant one. Good quality data and how it is used can even add equity to your overall business, with potential business partners, investors and your supply chain also benefiting from your hard-earned investment.
However, clever systems are only as good as their users, and Secret Source believe that this also extends to supporting external digital and marketing agencies. This is why Secret Source took the decision to specialise in HubSpot. While we work with clients who use all sorts of different sales and marketing systems successfully, Secret Source regularly experience that a business adopting HubSpot were successful as long as they implemented and maintained their HubSpot solution correctly.
Below are just a few examples where HubSpot through Secret Source can help your business:
Help monitor website performance
See who is engaging with your website and social channels
Save time posting, monitoring and reporting on your sales and marketing activity
Manage email communications, see who is engaging with what and when
Develop effective landing pages created through HubSpot
Forms - Quick forms, contact forms, all types of forms!
Get interactive with chat tools, knowledge managers
Consistency with content - help your team get the right message across with 'snippets' and 'templates'
...all within one place!
The HubSpot Sales, Marketing and Service Tech Stack makes sense, with everyone able to contribute toward the effective running of your business. With HubSpot developing the solution all the time, Secret Source HubSpot specialists can help ensure you are always ahead of the game.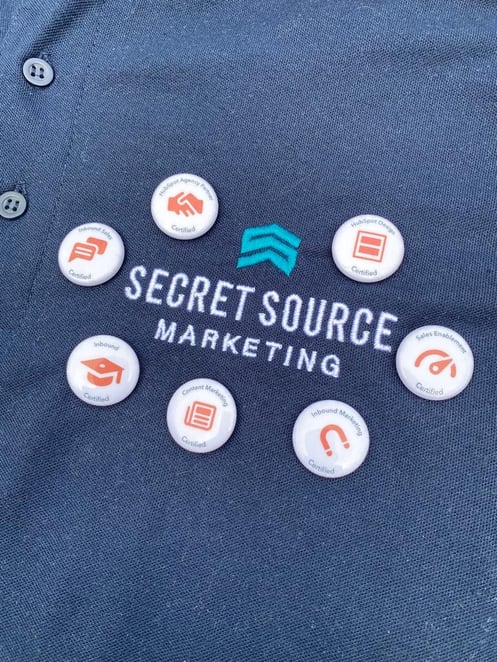 Secret Source have all the badges!
So, where to start?
First, ask yourself?
Do I want to grow my business?
Do I want my business operations to all be pulling together?
Do I want to have everything in one place, so I can measure, monitor and affect the result?
If the answer is yes to one or all of the above, then it may be time to consider HubSpot as a potential solution.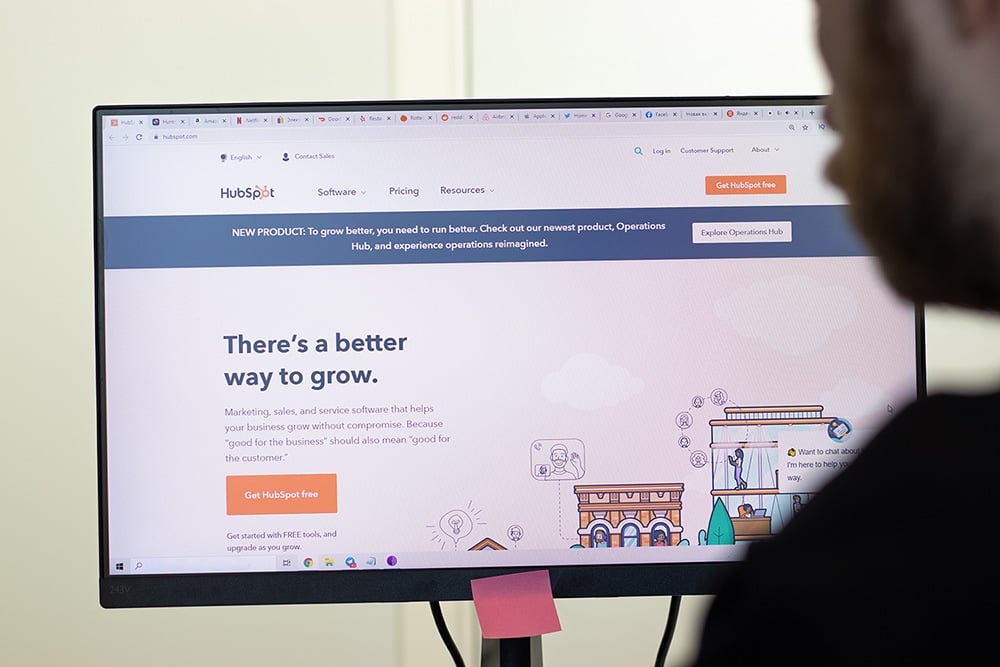 So what if I am already a HubSpot user?
Many HubSpot users are only using 20%-30% of what HubSpot is capable of (read article). With HubSpot being a SaaS offering (Software As A Service), new developments are happening all the time. Because HubSpot is so progressive, it can be hard to keep up with changes on top of your day job. That is where partnering with a dedicated HubSpot agency can help. It is the role of a certified HubSpot partner like Secret Source to keep up with all the latest developments, then help you by:
Utilising them in the correct manner
Training and support. Choosing the appropriate time to educate on new features
Ensuring they are adopted correctly
Adjusting any legacy content or items that need addressing.
Basically, a HubSpot Certified Agency should add value and carry out all the activities that would distract your internal teams from growing your business. Secret Source also act as extra muscle when and where required, always having your back when most needed.
Growing Better Together
Helping companies to develop their sales and marketing tech stack is interesting work. Taking the time to understand a business, what they need now and down the line. Getting to understand the marketing and sales culture, as well as the qualified leads and enquiries required to help grow the business. Challenges, bottlenecks, differentiators, customers, partners, prospects - Secret Source specialists are privileged to work alongside some talented people within ambitious companies all around the world. Long term business relationships are formed as HubSpot users meet the challenges of a growing company.
This is why we chose HubSpot.