HubSpot users are only using between 20-30% of the capabilities within HubSpot!
Secret Source Marketing are a UK HubSpot partner agency, working with enterprise global brands, SME's, Start-Ups, B2B and B2C, across different sectors. We've been a successful HubSpot partner for over 6 years. Many of us at Secret Source have been users of CRM systems for 20+ years. During that time we have seen many CRM solutions come and go, or get acquired. We've seen the birth of marketing automation systems and, more recently, the emergence of sales automation and service automation systems. We started off many years ago, onboarding clients wanting to use HubSpot. Time after time we would watch and help our customers grow and this was partly because they had predictable sales and marketing pipeline, clear goals,focus on their inbound strategy and deal process. Having a coherent strategy also led to healthy sales and marketing alignment. HubSpot sales and marketing automation systems worked together and life was good! Secret Source grew and started inheriting existing HubSpot users, here we found a different story!
Within the existing user base, we came across comments such as;
"We used to use HubSpot, but got rid of it."
"We never used HubSpot correctly."
"HubSpot, it didn't do..."
Or worse still,
"We found HubSpot too complicated"
"HubSpot is too expensive."
How was this so? From our experience, HubSpot CRM always offered a return in investment over time to clients and treated as one of their key ingredients to growth?

What we discovered when talking to many companies using HubSpot (or past users of HubSpot), was that they were only using a proportion of what HubSpot had to offer. We found that as low as 20-30% of the functionality was being accessed, depending on what 'Hubs' they had signed up to. This was predominantly down to the fact that HubSpot had not being on-boarded or integrated correctly, or simply that users just had not realised, been shown or invested the time into what HubSpot could do. While conducting audits of existing HubSpot users and the Hubs that they were subscribing to, we would speak with users; sales, marketing and business owners to help realign their goals and what HubSpot could actually offer them. The result is a happy HubSpot user!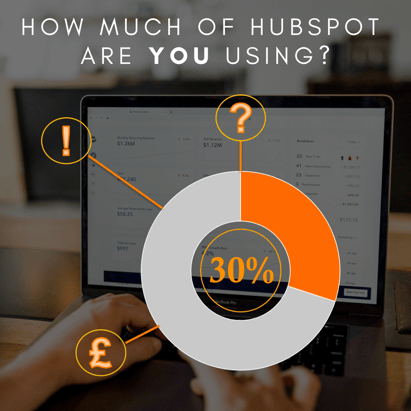 Because HubSpot CRM and automation tools are a 'software as a service' tool (SaaS), as a result, the HubSpot solution is continually evolving. New features, new HubSpot user interface, enhanced functionality, the HubSpot platform is a dynamic solution, and users have to evolve with it. While our dedicated HubSpot team at Secret Source viewed the HubSpot product roadmap as beneficial to business growth, individual HubSpot users had become frustrated as they could not keep up with development. This is why there exists a healthy network of HubSpot agency partners all around the world, working alongside clients to help keep them abreast of the latest HubSpot functionality.
Using a HubSpot partner
Partnering with a HubSpot specialist can help you get the most from your investment. HubSpot Partner agencies are on hand to proactively inform your team of the latest; product roadmap developments, best sales, service and marketing automation tools best practice. A certified HubSpot agency should help train individuals, handling any of the more technical elements of the platform or urgent tasks required by the client. Secret Source Marketing are on a mission! To ensure HubSpot users get the most from their HubSpot investment and are using 100% of the platform, relevant to the growth of their business.

Our team of dedicated HubSpot certified specialists work alongside your team at group/department and individual level to demonstrate how HubSpot CRM and Sales, Marketing, Service and Operation Hubs are simple to use, versatile and offer value to your business.
If you feel that your business should be getting more from your HubSpot solution, Secret Source can help you unlock its full potential. We run a series of virtual HubSpot workshop for any company, no matter where you are based, who believe that they can do more with their current HubSpot investment.

Contact us to book your FREE 30-minute HubSpot assessment.

However, If you are thinking of embarking on a new HubSpot journey and want to get off on the right foot, then get in touch today.
About Secret Source Marketing – With 20+ years experience working in Sales & Marketing, our specialists help business owners, sales and marketing leaders to get the best out of their marketing operations. Sales & Marketing Tech Stack, Graphic Design, Campaigns, Digital Marketing, SEO, Market Research and Content Writing, Secret Source Marketing are the source behind the brand.