Top ten books CEOs must read this year
The world over CEOs are always busy people. So, it's surprising how they ever find the time in their packed schedules for self-development. However, we've found that the most dynamic business leaders we've worked with are always looking towards improvement, reflection and finding new ways of thinking to give them the edge.
So where do they get some of their drive and vision from?
Below are our top 10 best books (in no particular order) that inspirational CEOs keep on their bedside tables…
1. Made to Stick: Why Some Ideas Survive and Others Die – Chip Heath & Dan Heath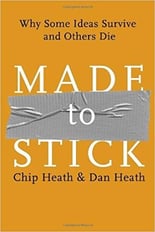 The results of over ten years of study, the book investigates why certain ideas lodge in our heads and why other vital information simply slips out of our minds. The authors examine the six factors that make ideas 'sticky' and look at exactly how we absorb information and what learnings can be taken to ensure our ideas are ones that don't get forgotten. An essential, entertaining read for anyone who needs to convey a message and make it memorable.
2. Leaders Eat Last: Why Some Teams Pull Together and Others Don't – Simon Sinek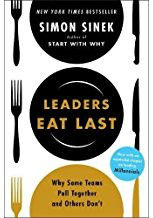 The sequel to the equally as brilliant Start with Why bestseller, Leaders Eat Last gives an in-depth insight into how other organisations think and behave in order to create a safe and secure environment. Find out why and how great leaders will sacrifice their own comfort for the good of those they are responsible for.
3. The Culture Code: The Secrets of Highly Successful Groups – Daniel Coyle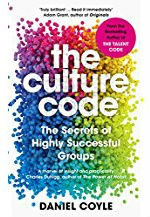 This fascinating book reveals the secrets of some of the best teams in the world including Pixar and Google. All the diverse teams share three skill groups they have developed to generate trust and collaboration. If you want to build a business where innovation is a common occurrence and expectations are regularly exceeded, this will help you understand how others have achieved it.
"An excellent book to consume for any team leader, executive team, CEO or Commercial Director. From the Navy Seals to Pixar, some excellent insights to consider when forming your team(s) in business". Nicholas Carlson
4. Way of the Wolf: Straight Line Selling - Jordan Belfort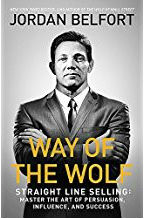 The irrepressible Belfort explains how you can learn to bounce back from terrible setbacks and build your way to huge success. The book helps you master the selling psychology and gain skills to persuade anyone to do anything you want them to do. A fascinating story with lessons that can really be applied in business.
5. Principles – Ray Dalio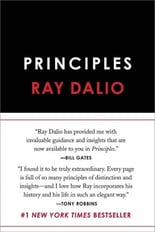 The author is one of the world's most successful investors and entrepreneurs and has been called 'the Steve Jobs of investing'. Here he reveals his remarkable career story and shares the unconventional principles he'd perfected to yield amazing results in both his business and personal life. The book is packed full of ideas that can be applied to help meet your own goals.
6. Influence – Robert Cialdini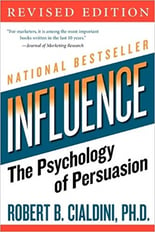 Explains the psychology of why people say "yes" and how to interpret this to perfect your approach. This classic book about persuasion covers the six universal principles you need to learn to become a highly skilled persuader. This inspiring read, based on thirty-five years of research and a three-year study programme, will change your mindset and behaviour.
7. Get a Grip – Gino Wickman & Mike Paton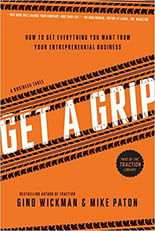 If you're an entrepreneur, or aspire to be, this is the read for you. The book tells the story of a fictional business but the Entrepreneurial Operation System® it features is real and has helped thousands of businesses around the world. This fable will hit home for leaders and help get their businesses heading in the right direction.
8. Shoe Dog – Phil Knight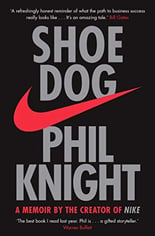 The gripping memoir of the man behind Nike. Full of wisdom and humour, it contains lots of lessons about creating something out of nothing, overcoming hardship and how to leave your own mark. The tale of an extraordinary journey that is hard to put down and should be especially relevant if you consider yourself an introvert, like Phil Knight.
9. Solve for Happy - Mo Gawdat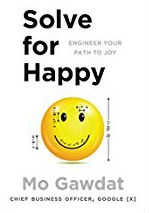 A brilliantly original book, it aims to explain the equation for happiness as a default state of being. The author, a brilliant thinker who had gained huge wealth, realised it hadn't made him happy and began to research if he could change this and learn how to avoid 'unhappiness traps'.
10. What Got You Here Won't Get You There – Marshall Goldsmith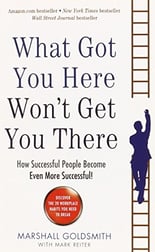 Written by an expert in helping global leaders overcome unconscious annoying habits, this will get you to recognise what your own flaws and barriers to success are and how to tackle them.
This book was gifted to one of Secret Source's founders by a CEO and it inspired him to start his own marketing agency. You can't get a much better recommendation than that!
Get involved. If you have your own business related book that you would like to recommend, that inspired, educated or helped you, then we would love to hear your comments below!
For more information on how Secret Source helps businesses, please follow or get in touch. Simply leave your details and we'll contact you to talk through how we can support your growth.