8 Good Reasons To Outsource Your Marketing
Every business needs some form of sales and marketing in order to grow. However, d
eveloping a marketing plan, writing, posting timely and engaging content, maintaining customer contact, establishing social media content, understanding and acting on data-driven analytics, thinking, then constructing/designing and running sales and marketing campaigns across different channels, takes time for any business.
The traditional method for most companies is to hire a marketing team, give them a budget with which to manage external specialists, help execute a marketing strategy, whilst carrying out day-to-day marketing operations. With cost and time being two major obvious factors, business leaders would ideally like to improve both. When contemplating whether to outsource your marketing function or build one, during the recent pandemic the reasons to outsource marketing has not only become an important financial decision but a strategic business one too.
Here are eight good reasons why outsourcing marketing may benefit your business.
What is Outsourced Marketing?
First let's ask the question, what does it mean to truly outsource your marketing? Outsourced marketing is the process of using external marketing specialists to help execute all, or most of your marketing function. Depending on budget and growth targets, you can choose to either have a dedicated outsourced team assigned to your business or a more cost conscious model of using a shared service marketing function. The shared service marketing function is often the preferred option because it can benefit your business in lots of ways as listed below in our Top 8.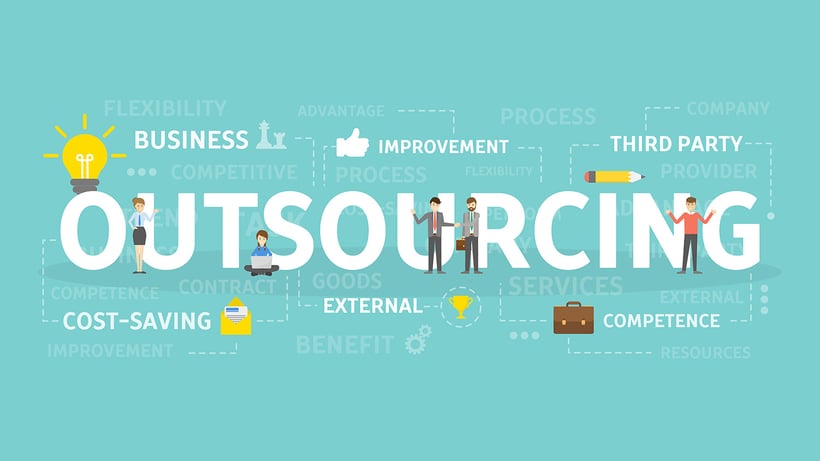 With the right outsourced marketing team, it will enable competitive advantage for your business. Over 50% of UK businesses have already outsourced an element of their marketing and this is set to increase in 2023. While cost is said to be the main reason why business leaders consider outsourcing their marketing in the first place, speaking with successful businesses, there are eight main reasons cited to why outsourcing marketing to a dedicated, specialist resource offers a competitive advantage.
1. Time
Time is a valuable commodity when running a business. From our experience, many business executives are savvy and already understand what needs to be done when it comes to their marketing operation. Unfortunately, they lack the time to either do something about their marketing activities or keep marketing campaigns consistently running. An outsourced marketing agency is an 'engine' that once engaged starts to execute on a defined marketing strategy. A consistent approach aimed at building a brand's authority in their chosen markets. When compared to the common practice of hiring different agencies; website, SEO, paid, graphic design, social, the list goes on... all working at varying paces and even in different directions! The time taken to manage different marketing specialisms is the responsibility of the outsourced team. To do 'marketing right', takes up a lot of time, so best leave it to people who do it all day, every day and gain some time back.

2. Costs
Listed as one of the main reasons for entertaining outsourced marketing in the first instance is cost. Whilst outsourcing to multiple specialist agencies may in fact increase your costs, a dedicated outsourced agency will combine your salary, marketing budget and running costs thus reducing your overall spend considerably. A decent sized outsourced marketing department will already have the capacity to cater for sickness and holidays, offering peace of mind that you can carry on delivering marketing growth throughout the month/year. The management of overheads by using an outsourced marketing department is also a firm favourite of the Finance Leader, who budgets for a set rate each month. With very few peaks and troughs, apart from any search engine or social paid budget required which is often outside the outsourced marketing services. A business need not carry what they don't need, an outsourced marketing department works as a shared service so your business is not carrying the full cost of FTE's but rather offers access to top skills and expertise when required.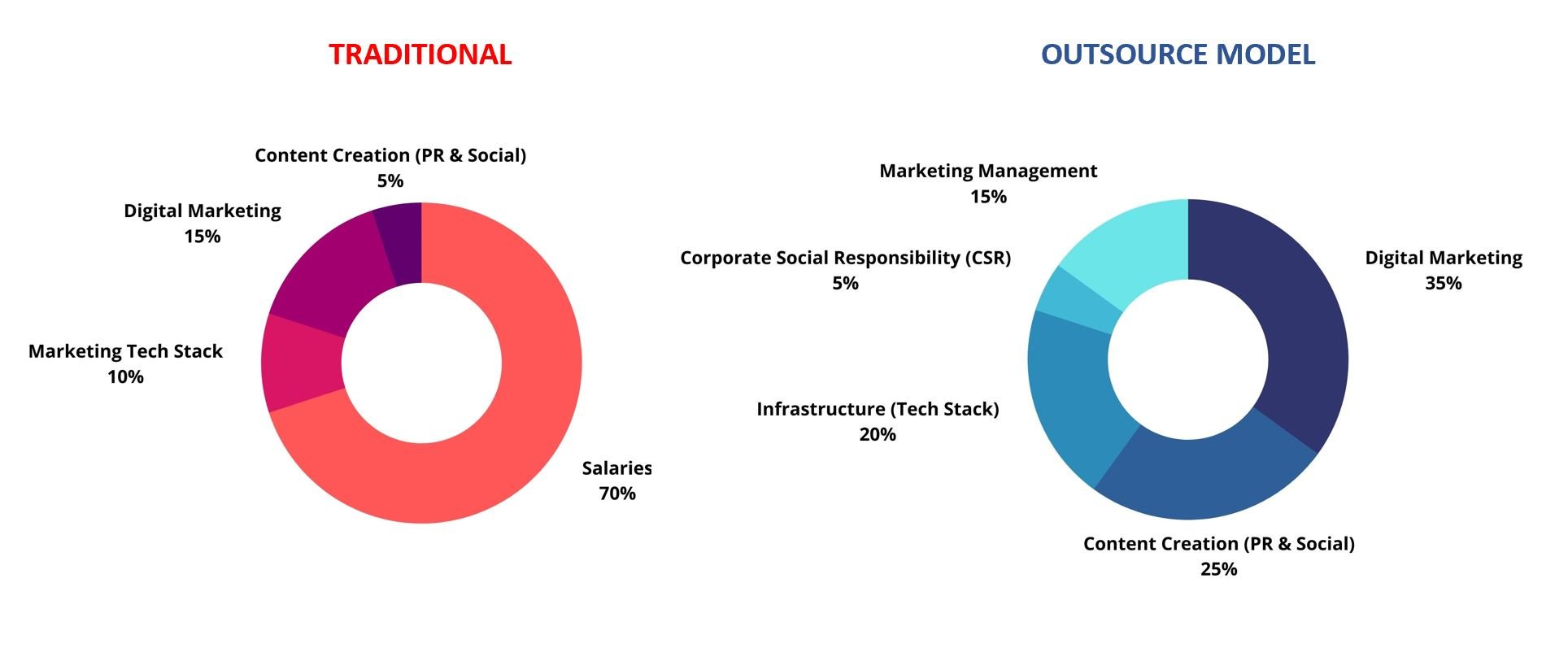 3. Core Skills
It doesn't matter if running marketing operations is not your core skill, a good outsourced marketing department will offer a marketing leader as part of the team, responsible for managing activities and deploying the right skill on the job at the approprate time.
"Business leaders realised that by outsourcing their marketing they could still achieve growth whilst reducing their overheads"
4. Fresh Ideas
Keeping up with the latest marketing trends can be challenging for business executives. An outsourced marketing team should not get stale. For example, Secret Source Specialists are actively encouraged to find new ways in which to offer clients the competitive advantage. Operating as a shared service marketing team and running multiple campaigns, across sectors and geographies, with access to the latest software and tools as well as fellow specialists, all this is then passed on to help our clients identify potential new ideas.

5. Remain competitive
Do more, with more! Unless your competitors outsource too, then they will have to invest heavily in keeping up! Being able to deploy different specialist skills when needed is another major benefit to outsourcing your marketing. With in-house teams often locked into one company and one sector, it is no wonder why it may take some marketing professionals some time to discover future trends and be proactive to capitalise on them. Because an outsourced marketing team operate effectively as a shared service, so their exposure to future sales, marketing and business trends is increased. They keep a close eye on your competition.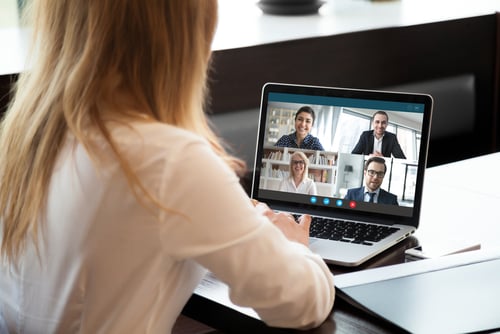 6. The Power of the Team
A YouGov survey found that another main reason for outsourcing was to access the right skills needed for growth. By choosing a dedicated outsourced marketing agency, you will not just get one or two people working on your business but a whole team! Unlike hiring different agencies, cobbled together, a cohesive outsourced team will already understand the mission.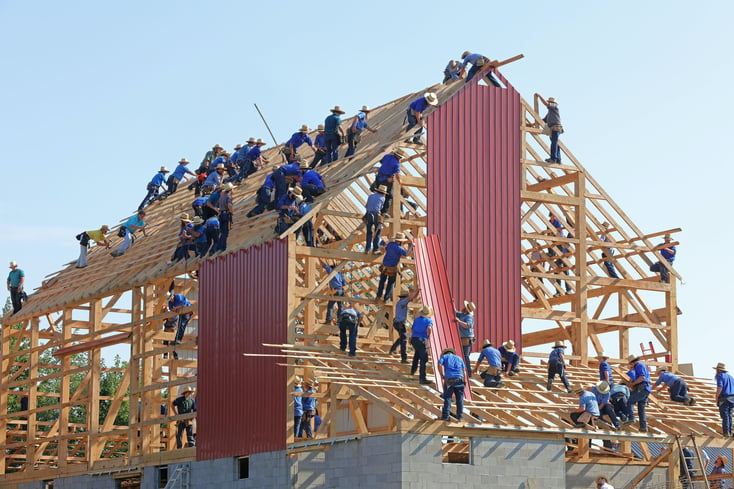 7. Flexibility & Scale
In an uncertain and competitive business environment, companies choosing to outsource their marketing function are able to scale up and down their resource. The time taken to find, hire and onboard the right talent can impede your rate of growth. Already possessing the integrated skills necessary, switching to an experienced, dedicated outsourced marketing team and onboarding them can take as little as five working days or less!
8. Positive Results When Using Outsourced Marketing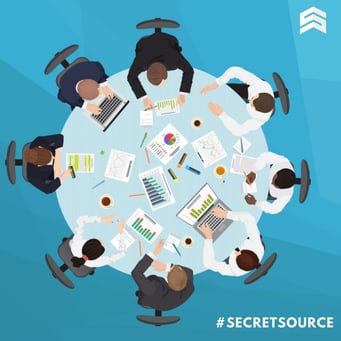 Unlike using a mixture of agencies who will only focus on their own specific area for results, a decent outsourced marketing agency will have your whole business interests at heart. Because they are not moving from project to project, they work to more medium to long term goals, which results in better and continuous growth. Outsourced teams are often producing monthly reports for multiple companies so as a result have invested in strong and accurate reporting methods and solutions that will offer a better overall view of your marketing activities and results.
Using a mix of different specialist agencies or even a 'full service agency' often lack the incentive to help grow your business in the long term. This is why business leaders are looking to use outsourced marketing agencies to help them.
Is Outsourcing my Marketing right for my business?
While there are many more reasons to consider outsourced marketing versus in-house marketing, not every business will be ready to do this. So many myths surround outsourcing marketing ranging from losing control to not experiencing the company culture. Since the pandemic, these misconceptions have dissipated due to many more employees working from home.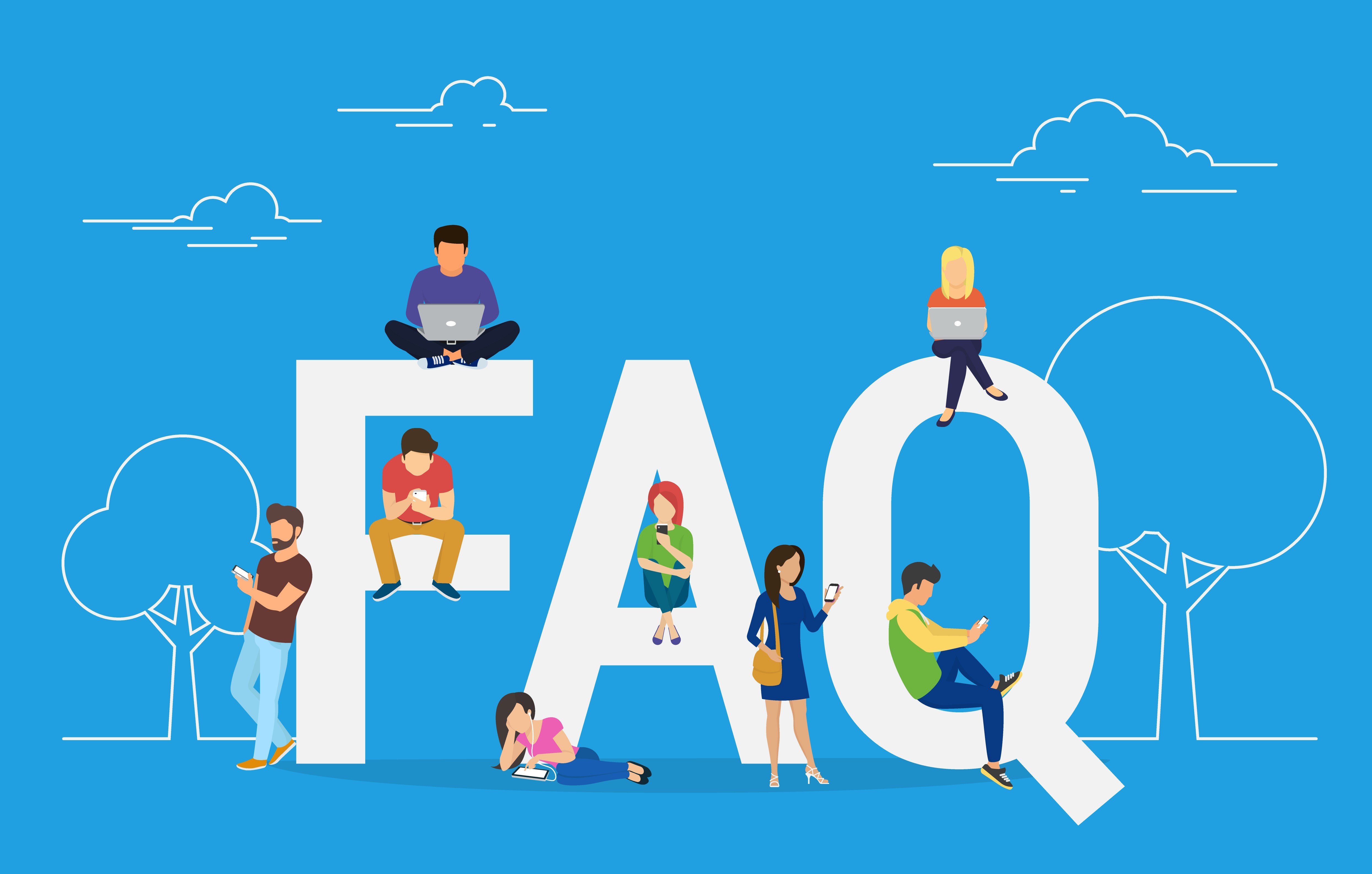 Frequently Asked Questions About Outsourcing Marketing;
How long do I have to commit to?
While is does depend on your current situation, we suggest at least 3-6 months for the outsourced team assigned to be able to show you some green shoots. Once reassurance is established, then 36+ months is the average tenure of a relationship. Secret Source has worked alongside clients for over six years and still going strong!
How much does Outsourced Marketing Cost?
If you are serious about growing your company, then you should see it as an investment. The good news is that; recruitment, equipment, training, development, retention are all the responsibility of the outsourced marketing agency. Cost modelling for an in-house marketing function versus an outsourced marketing department.
Traditional = Salary x ? + Employee Costs + Equipment + Marketing Budget (External Specialists)
Outsourced Marketing = Retainer/Project Cost/month
With the 'Traditional Model', the average salary for an experienced marketing professional is £34, 000 (Source: Payscale Research) . A business also then budgets on average 12-20% of their gross revenue on marketing (Source: Experian). With an Outsourced, Shared Services Marketing Team, the control of costs is managed by the agency, making it much easier to manage overall.
Will I lose control of my Marketing?
It is natural to be protective, however in reality business leaders actually gain more control over their marketing operations. Regular reporting, communication, experienced in business growth, are all elements that have improved with outsourcing. Selecting a dedicated, experienced outsourced marketing agency rather than a marketing or creative agency turned outsourcing is key. Secret Source Executives have all held successful senior marketing, sales and IT positions before being selected as Secret Sourcers.
Can I have outsourced marketing working with my current Marketing Team?
Absolutely! Sales and Marketing professionals partner with Secret Source Specialists all the time, allowing them to be more strategic, develop and grow. In-house marketing professionals see us as inheriting a team. With 20+ years experience in marketing, we will work alongside marketing professionals as colleagues would and they sit with our teams and vice versa.
Is sector experience required?
Shared cross vertical market intelligence is healthy, therefore proactive advice and guidance is forthcoming. It does help if the outsourced marketing agency can demosntrate a track record within your sector so they can fully appreciate the buying personas. However, a reputable outsourced marketing agency will be able to deploy the marketing specialisms to most markets to great effect.
Will my outsourced marketing be offshored?
Some outsourced agencies do use offshore talent for cost reasons. Secret Source however will only recruit offshore resource if they possess the necessary skills and acumen befitting of a Secret Source professional. (read our core values here).
Will using outsourced marketing embrace my company culture?
This is one of the biggest factors in outsourcing your marketing. Whilst other outsourced functions can be transactional by their very nature, marketing is both metric driven and culture driven. With the wrong company culture or attitude, outsourced marketing, because it is a visible, tangible function will struggle if employees don't want it to work from the outset. However, with the right adoption and attitude towards outsourced marketing, businesses have been known to thrive! A true outsourced marketing agency is one that feels like they are part of your business and while they might not sit in the office everyday, positive adoption has seen Secret Source Specialists as every part of the business as one of your FTE's.
Is outsourced marketing only for SME's?
Whilst SME's benefit greatly by having a professional marketing team at their disposal and ready to deploy. Increasingly large enterprise companies are looking to outsourced marketing as a way to stay agile. Within larger companies, using outsourced marketing teams has it benefits. i.e. outsourced specialist teams work on a non-core, acquisition or skunk works projects. Outsourced marketing can be used across any size or sector of organisation for exactly the same eight reasons listed above.
What Marketing can I outsource?
While marketing agencies will encourage you to outsource the following list of services, Secret Source will often take the responsibility for the lot! A true outsourced marketing department will know which skills to deploy and when.
Marketing strategy
Content strategy
Campaigns
Social media marketing
Graphic design and branding
Web design and development
Search Engine Optimisation (SEO)
Email marketing
Website design and build
CRM, automation and workflow analytics
Video Production
PPC and Adword Management

Final Thought
Lots of top talent work within outsourced marketing agencies for many reasons including; the variety of businesses and sectors to work with, personal development from strong integration with other elements of the marketing mix outside their core skill, work life balance, access to latest; tools, equipment and training, responsibility and more besides. Outsourcing your marketing function can not only have a positive impact on your bottom line, but your overall business growth.
Sources: Onrec.com / Forbes / Experian
You might want to also read;